The top U.S. military intelligence officer in Afghanistan has published a damning assessment of the capabilities of U.S. intelligence agencies in the country calling them "only marginally relevant."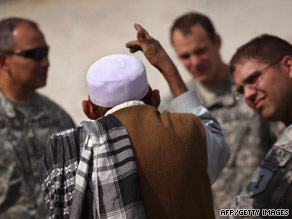 U.S. intelligence officers in Afghanistan have likened their task to fortune telling.
In the course of the 26-page report published by Washington think tank the Center for a New American Security. Major Gen. Michael Flynn – the senior author – paints an extraordinary picture of intelligence operations in the country.
Flynn says: "The U.S. intelligence community has fallen into the trap of waging an anti-insurgency campaign rather than a counterinsurgency campaign."
Some of the analysts, which Flynn calls "bright, enthusiastic and hungry" are "starved for information from the field" with many of them describing their work as more like "fortune telling" rather than serious intelligence gathering. Amazingly – a word not overused in the context of this report – Flynn reports that decision-makers tend to rely on newspaper reports rather than military intelligence.
The report concludes: "History is replete with examples of powerful military forces that lost wars to much weaker opponents because they were inattentive to nuances in their environment."
At the moment, the success of the U.S. campaign in Afghanistan is based on what  the authors describe as  "the dubious premise that a bull will not tire as quickly as a Russian bear."
After eight long, bloody years in Afghanistan war is the U.S. merely repeating the mistakes made by the Soviet Union in the 1980s?
Was Major Gen. Flynn right to issue such a public denunciation of his own intelligence forces? We would like to hear your views.