When "The God of Small Things" first hit bookshelves in 1997, Indian born author Arundhati Roy was instantly catapulted to global fame.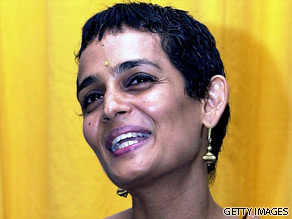 Arundhati Roy is your Connector of the Day.
Her debut novel shot up the "New York Times" bestsellers list and snapped up the coveted Booker Prize for Fiction.
Roy was no stranger to success -– she'd already won a National Film Award for Best Screenplay - but even she was shocked at the amount of international attention.
Roy has continued to hold the spotlight thanks to tireless political activism on issues as far-ranging as India's nuclear weapons, Enron and the war on terror.
Her efforts were finally recognized in 2004 when she was awarded the Sydney Peace Prize.
Roy's not afraid to speak her mind about the social causes close to her heart, even if it means getting criticized in the process or even being sent to jail.
Currently, Roy has a new book of essays out called "Field Notes on Democracy".