Singer Kelly Rowland may have been part of one of the most successful girl bands of the 20th century, but that hasn't stopped her from carving out her own bit of fame as a solo artist.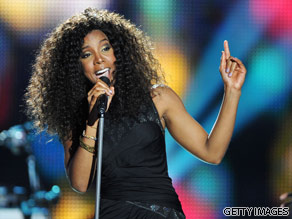 Kelly Rowland is your Connector of the Day.
The 29-year-old American singer was born as Kelendria Trene Rowland and made her name as one of the founding members of the girl group, "Destiny's Child".
The group signed with Columbia Records in 1997 and recorded their first breakthrough single called "Killing Time" which was on the hit film "Men in Black."
But it wasn't really until their second album that the group became a household name - their song "Say My Name" won the Grammy award for best R & B song by a group as well as the best R & B song in 2001.
As the group continued to gain worldwide success, Rowland branched out into solo projects and began recording a range of songs as an individual artist.
While Rowland has continued her musical success, the singer has also devoted a large portion of her time to humanitarian and social causes.
Rowland is heavily involved in the 1Goal: Education for all, World Cup campaign that is aiming to bring education to children around the world.
Estimates say that there are more than 72 million children around the world without the opportunity to go to school.