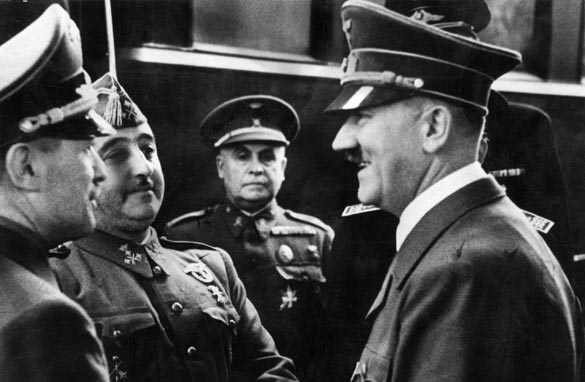 History lays the blame for World War II firmly on Adolf Hitler. (Photo: AFP/Getty Images)
History is the propaganda of the victors. Accordingly, Germany's Adolf Hitler has been assigned total blame for starting World War II in Europe, history's deadliest conflict in which 50 million died.
Interestingly, the 70th anniversary of World War II has reopened old wounds and ignited an ugly battle of words between Russia and its unloving neighbors, Ukraine, Poland, and the Baltic states. The latter two accuse Moscow of having stabbed them in the back in 1939 by becoming a partner with Nazi Germany.
The parliamentary assembly of Organization for Security and Co-operation in Europe recently held the USSR and Germany `equally responsible for World War II.' After 70 years, it's about time.
`A flat-out lie,' angrily retorted Russia's president, Dimitry Medvedev. The war cost the Soviet Union 25 million dead. Russians are quite right in believing that they, not the US and British Empire, defeated Hitler's Germany. Russians fought with incredible heroism, suffered unthinkably casualties and damage, and ground Nazi Germany into dust. The Allies played an important but comparatively far less important role in Europe against an already defeated and ruined Germany.
Underlining Moscow's worrying rehabilitation of Stalin, Medvedev claims the Soviet dictator saved Europe from Hitler and rejects all attempts to equate him with Hitler.
But the facts say differently. Stalin was an even worse mass murderer than Hitler by a factor of three or four. Stalin was also a much cleverer strategist, war leader and diplomat than Hitler, who stumbled into a war that Germany could not possibly win and for which it was woefully unprepared.
Click here to read the rest of this article on Eric Margolis' Web site.