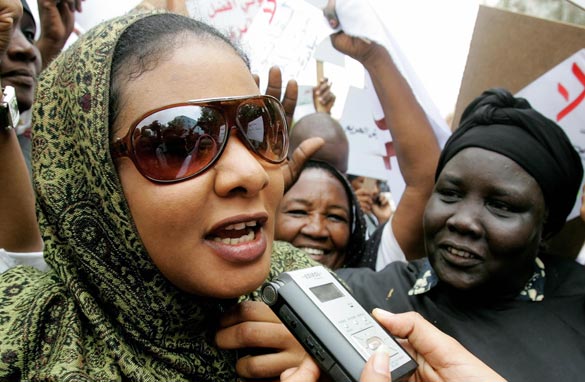 Al-Hussein faced up to 40 lashes for wearing pants considered too tight and a blouse deemed too sheer (PHOTO: AFP/GETTY IMAGES.)
The trial has taken place in Sudan of a woman accused of wearing trousers which were "too tight," and a blouse that was too transparent.
Lubna al-Hussein, an employee of the media department of the United Nations in Sudan, resigned her position to deliberately lose immunity and go to trial. She was fined by the court, but will not get the 40 lashes she could potentially have faced. Her lawyer says she will appeal against the decision.
She does not intend to pay the fine, which means she will be jailed for a month, her lawyer says.
On Connect the World we discussed the case with Ayaan Hirsi Ali, the internationally known campaigner against the oppression of women in Muslin society. Hirsi Ali is a former Dutch MP, and for her campaigning and writing was named by Time magazine as one of the 100 most influential people of 2005. You can watch the interview here: