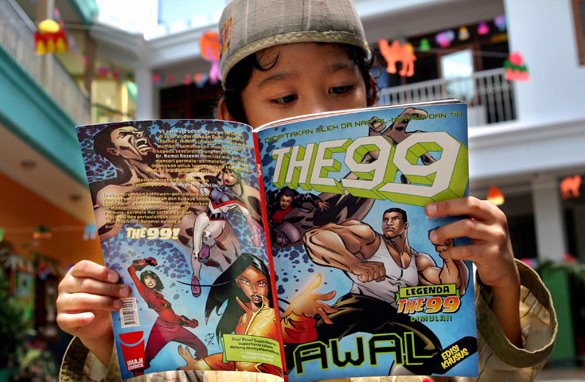 A young boy reads a copy of the 'The 99' comic book at his school in Jakarta. (PHOTO: AFP/GETTY IMAGES)
The events of 9/11 and its aftermath provoked, understandably, much analysis and soul searching. For a small group of individuals thoughts immediately turned to a seemingly impossible task. Could they create something positive from the tragic events of that day?
One such man is Kuwaiti psychologist Dr Naif al-Mutawa who, in the wake of 9/11, created the ultimate 21st Century comic book hero. "The 99" are superheroes inspired by Islamic culture and tradition – their mission is to spread peace and tolerance and, in the process, reclaim Islam from militants . The heroes appear in comics that sell around the world.
Today we want you to comment on 9/11 and its aftermath and we'd especially like to know whether you think any positives emerged from that dark day.
On a lighter note we'd also like to hear from you about what impact you think superheroes have had on popular culture ,and tell us what superpower you would most like to have.
Join us for this debate and if you have any specific questions for Dr al-Mutawa let us know because he is our Connector of the Day.