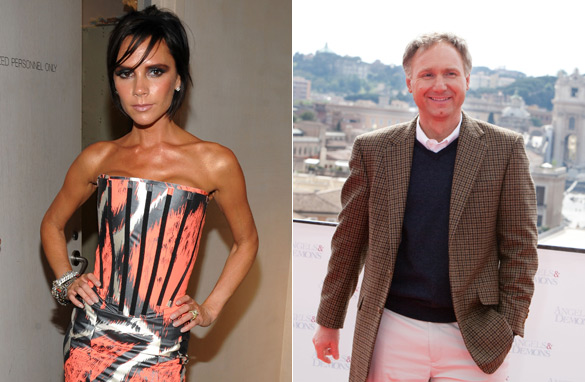 What links Victoria Beckham to Dan Brown? (PHOTO: AFP/GETTY IMAGES)
LONDON, England - It's time for "Six Degrees" - our weekly challenge for Connect the World viewers and Web users. In case you haven't figured it out yet, it's easy to play. Just link two of the week's newsmakers in exactly six steps.
This week we want you to tell us what links Dan Brown, best-selling author of "The Da Vinci Code" whose new book "The Lost Symbol" hits book stores on Sept. 16, to former Spice Girl Victoria Beckham, whose third catwalk collection went on show Monday at New York Fashion Week.
Leave your submissions in the comments section below, and the team will pick the most creative connection, and I'll announce the winner on Friday's show.
Need some inspiration? Check out last week's winner K. Lingaraju, who managed to link tennis star and new U.S. Open champion Kim Clijsters with Saif Gadaffi, the son of the Libyan leader.
Here's how they did it:
Kim Clisters was engaged to...
Lleyton Hewitt, who was presented the Wimbledon trophy in 2002 by...
the Duchess of Kent, whose husband is...
the Duke of Kent, 27th in line to the throne of...
Queen Elizabeth, whose Lord President of the Privy Council...
Lord Mandelson, met with...
Saif Gadaffi at Corfu this August.
Remember: you need five other people between those two: no more, no less. If you want your friends to take the challenge as well, then click the "share post" button below.
To see previous challenges, click here. Happy connecting!