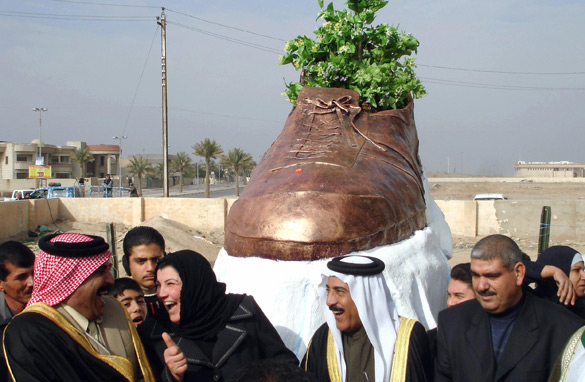 Iraqis unveil a bronze monument of a show thrown at U.S. President George W. Bush. (PHOTO: AFP/GETTY IMAGES)
LONDON, England - An Iraqi journalist imprisoned last year for hurling a shoe at former U.S. President George W. Bush was released from jail Tuesday with apparently few regrets over his actions.
"I got my chance and I didn't miss it," Muntadhar al-Zaidi told reporters. "I am a person with a stance. I saw my country burning."
Many observers in the Middle East and beyond will undoubtedly have sympathy with al-Zaidi. Show-throwing is a traditional insult in Arab culture and al-Zaidi's action vividly captured the resentment felt in many Muslim countries at the time towards the U.S. and its unpopular president.
In Iran, a cleric dubbed the incident the "shoe intifada" while the Turkish shoemaker who made the brogue-turned-missile reported surging sales in the days after the incident.
In the weeks that followed both China's premier Wen Jiabao, in an address at the UK's Cambridge University, and India's home minister P. Chidambaram were targeted with footwear in copycat attacks.
But al-Zaidi's attack on Bush also appealed to a more base urge common to many cultures to throw things at our political leaders.
In the UK, the weapons of choice of protesters have long been eggs, slime and gunk: earlier this year, UK Business Secretary Peter Mandelson was doused in green custard by a climate change protester, while former deputy prime minster John Prescott famously hit back when he was yoked by an egg-throwing assailant in 2001. (Read more)
But should such behavior be tolerated? Is it disrespectful –- or a security threat - to target our elected leaders with essentially harmless projectiles? Did al-Zaidi deserve to go to jail?
Or do such incidents simply belong to an healthy tradition of political dissent and protest, providing an important reminder to our leaders that, ultimately, they must answer to the people? Tell us what you think.