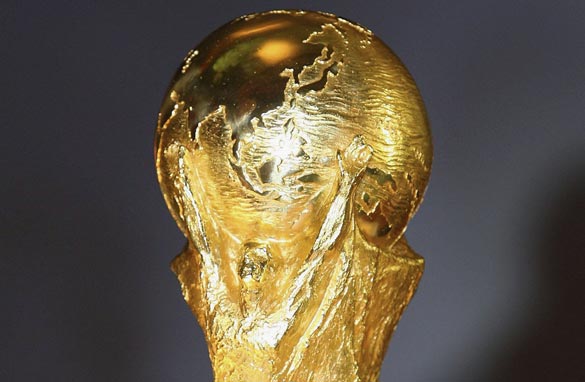 Thousands of football fans in Africa will get a rare close-up view of the World Cup Trophy, as it's flown to Cairo today for the first stop on a tour of the African continent ahead of the World Cup in South Africa in nine months' time.
Made of solid 18-carat gold, the trophy is 36cm tall and weighs 6 kilograms, and has spent most of its life in South America and Europe, with Brazil and Italy the most prolific winners. (Watch Ben Wedeman's report on Connect The World tonight.)
The last two world cups and dozens of top-level games round the world this season have been marred by the modern practice of diving in the penalty area. The organising body FIFA announced before the last world cup that it wanted referees to come down hard on "simulation" – its word for diving.
As it turned out, a record number of red and yellow cards were awarded for foul play generally in Germany in 2006, with several made for alleged dives. But it doesn't seem to have halted the practice. As the next world cup looms, will it again be marred by "simulation?"
Tonight Connect the World will follow the World Cup trophy on the first leg of its journey to South Africa, and examine the diving controversy. Tell us you thoughts on how the tournament is shaping up, and whether enough is being done to tackle the scourge of cheating in the penalty area.