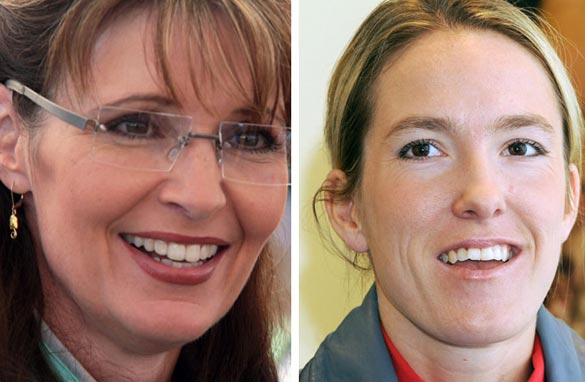 What links Justine Henin to Sarah Palin? (PHOTO: AFP/GETTY IMAGES)
LONDON, England - It's time for "Six Degrees" — our weekly challenge for Connect the World viewers and Web users.
Here's how to play: We choose two people in the news this week and ask you to connect them through the six steps.
In this week's challenge we want to connect tennis star Justine Henin, who made her return to the sport this week, to U.S. former vice-presidential hopeful Sarah Palin, who made her debut in Hong Kong.
You need to come up with five other people between those two for a total of six links.
Leave your submissions in the comments section below, and the team will pick the most creative connection, and I'll announce the winner on Friday's show.
Need some inspiration? Check out last week's winner Troy Barrett, who managed to link fashionista Victoria Beckham with "The Da Vinci Code" author Dan Brown.
Here's how he did it…
Victoria Beckham is married to…
David Beckham, who, upon moving to Los Angeles with his family, was thrown a welcoming party in 2007 which was attended by…
Tom Cruise, who is a Scientologist, along with…
John Travolta, who starred in "Magnificent Desolation: Walking on the Moon 3D," a documentary that also featured a role voiced by…
Rita Wilson, who is married to…
Tom Hanks, who starred in "The Da Vinci Code," a book written by…
Dan Brown.
Remember: you need five other people between those two: no more, no less. If you want your friends to take the challenge as well, then click the "share post" button below.
To see previous challenges, click here. Happy connecting!