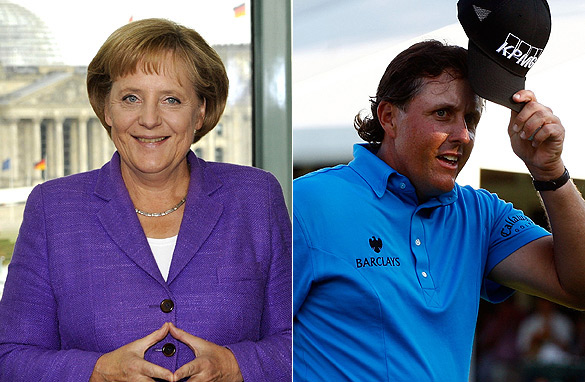 What links Angela Merkel to Phil Mickelson? (PHOTO: AFP/GETTY IMAGES)
LONDON, England - It's time for "Six Degrees" — our weekly challenge for Connect the World viewers and Web users.
Here's how to play: We choose two people in the news this week and ask you to connect them through the six steps.
In this week's challenge we want you to connect Angela Merkel, who's just been elected German Chancellor for a second time, to golfer Phil Mickelson, who's won the U.S. Tour championship.
You need to come up with five other people between those two for a total of six links.
Leave your submissions in the comments section below, and the team will pick the most creative connection, and I'll announce the winner on Friday's show.
Need some inspiration? Check out last week's winner, Dany Pelligrino, who connected tennis star Justine Henin to former Governor of Alaska Sarah Palin.
Here's how he did it:
– Justine Henin beat Serena Williams in the U.S. Open quarterfinals in 2007.
– Williams has appeared on "America's Next Top Model" hosted by Tyra Banks…
– Who has also interviewed model Iman…
– Who starred alongside Steve Martin in "L.A. Story".
– Martin also appeared in the film "Baby Mama" starring Tina Fey…
– Who returned to "Saturday Night Live" last year with a dead-on impersonation of - and on one show appeared alongside - former vice presidential candidate Sarah Palin.
Remember: you need five other people between those two: no more, no less. If you want your friends to take the challenge as well, then click the "share post" button below.
To see previous challenges, click here. Happy connecting!