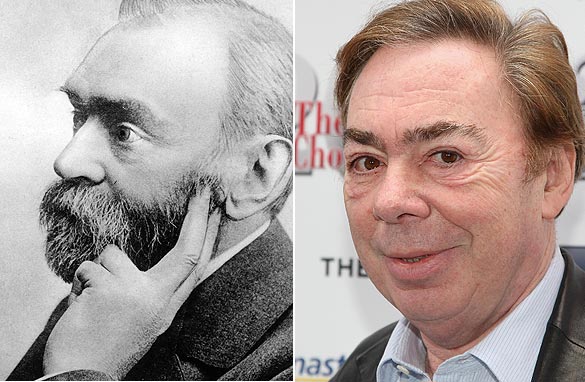 What links Alfred Nobel to Andrew Lloyd-Webber? (PHOTO: AFP/GETTY IMAGES)
LONDON, England - It's time for "Six Degrees" — our weekly challenge for Connect the World viewers and Web users.
Here's how to play: We choose two people in the news this week and ask you to connect them through the six steps.
The week we've chosen chemist Alfred Nobel – who established prizes for outstanding achievements in sciences, literature, and peacemaking – and composer Andrew Lloyd-Webber, who is launching the sequel to musical Phantom of the Opera in London's West End and on Broadway.
You need to come up with five other people between those two for a total of six links.
Leave your submissions in the comments section below, and the team will pick the most creative connection, and I'll announce the winner on Friday's show.
Need some inspiration? Check out last week's winner, Matt Crean, who connected German Chancellor Angela Merkel to golfer Phil Mickelson.
Here's how he did it:
- On a visit to Israel Angela Merkel was greeted at the airport by former Israeli PM Ehud Olmert.
- Olmert was also on the welcoming committee for former U.S. President George W. Bush.
- Bush was replaced at the White House by Barack Obama.
- Obama was obviously present when golfer Tiger Woods spoke at the presidential inauguration celebrations in Washington.
- Woods played with Padraig Harrington during the PGA Championship.
- And Harrington in turn has played against Phil Mickelson at the 2008 Ryder Cup.
Remember: you need five other people between those two: no more, no less.
If you want your friends to take the challenge as well, then click the "share post" button below.
To see previous challenges, click here. Happy connecting!