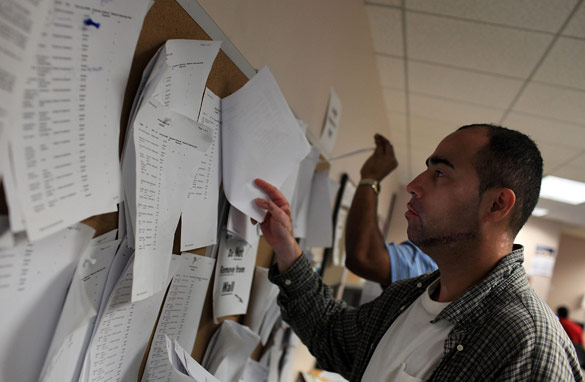 For a brief moment, there seemed to be a bit of hope at the end of the financial crisis as job numbers indicated a rebound in the economy.
A surge in hiring in May accounted for more than 400,000 new jobs in the United States - although many of those were temporary government positions - and in April, the private sector added a staggering 218,000 jobs.
In the United Kingdom, Canada and Australia, job numbers began to rebound, but have since flattened.
The news provided a brief respite in what has otherwise been a devastating past two years for individuals, families and businesses around the world.
Financial markets around the world continue to jitter over concerns that the recession may return and only get worse.
Many economists forecast that the private sector in the U.S. will add only 100,000 jobs in June, far weaker than either March or April.
Many say it could be late 2010 or even early 2011 before businesses will once again be adding 200,000 jobs in a month.
The bad news has forced unemployed workers around the world to take drastic steps to find a job - many have even moved across borders and into different countries to survive.
Stories of Americans moving to Europe, college graduates taking working holidays to Australia and South Americans heading across the ocean to Spain are all too common place.
Things have even gotten much worse for thousands of workers that they have been forced to return to their home country because the jobs have all but disappeared in their adopted state.
Spain's poor economy has forced thousands of South American to migrate back home to places like Ecuador in record numbers.
We want to know what you think.
Have you been affected by the recession and forced to relocate for work? What lengths have you had to go to find a job? Would you be willing to move half way around the world for work?
Please let us know and do send in your questions and comments.
We'd also love to hear from you via Twitter - just reply @BeckyCNN.
You can also send in your videos and pictures via iReport by clicking here.