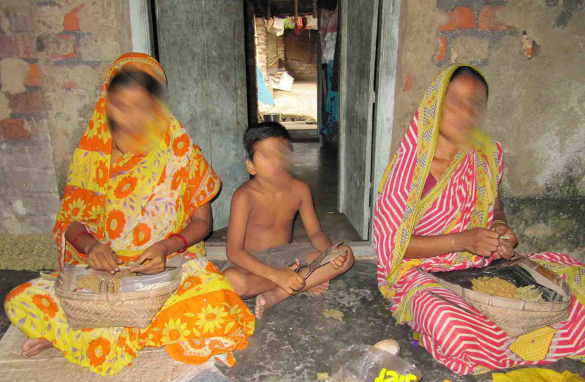 Many villagers, like these rolling tobacco in to beedis (South-Asian cigarette), have no choice but to work for the owner of the land where they live.
By Siddharth Kara;  Special Contributor & Human Trafficking Expert
Kolkata, India: I have spent the last two weeks transecting north India, from Rajasthan to West Bengal, gathering data relating to numerous forms of labour exploitation in numerous industries, from beedis to rice, to carpets and bricks.
One of the forms of bonded labour I researched for the first time during this trip was stone crushing in Haryana. Try to imagine lifting an 18 kg metal hammer over your head, then flailing it down with all your strength into hard stone.
Now try to imagine doing this in 40 C heat, with minimal food and water, twelve to fourteen hours a day, for a wage of $0.02 per square foot of stone you manage to crush. Finally, imagine you may receive half this wage now and then, or half of it may be deducted for debt repayment.
I tried this work for ten minutes and could barely lift the hammer over my head. I was drenched in sweat and felt breathless with exhaustion. With each crashing blow, I thought my shoulders would pop out of their sockets.
[cnn-photo-caption image=http://i2.cdn.turner.com/cnn/2010/images/08/23/india2.jpg caption="This man shows me how he breaks rocks with an 18-kg hammer in 40C heat for $0.02 per square foot of crushed stone."]
Thousands of men like "Sameer" are involved in this work throughout India, and many of them work in slave-like conditions. This, despite the fact that the first Supreme Court victory in India against this type of exploitation all the way back in 1983 involved a claim by bonded labouers who were crushing stones, in a quarry in Haryana.
I asked Sameer if he were ever injured doing this work. He offered a wry smile as he pointed to scars and gashes all over his legs, feet, and hands. Frail and grizzled, Sameer was forty-two years old, and had been crushing stones since the age of twenty.
Beedi rolling is another industry I explored for the first time during this trip. In West Bengal, entire villages are caught in forced labour in the beedi rolling industry.
In one village about three hours north of Kolkata, I met several villagers who showed me how they roll upwards of one thousand beedis per day. Contorted fingers and respiratory ailments from incessant tobacco inhalation are just a few of the maladies that plague these people.
"Amina" was five years old when she started rolling beedis. She is now twenty-two. Her grandmother still rolls beedis. The villagers have no choice because the landowner's agents bring the dried kendu leaves and tobacco each week, and they know how to make sure the villagers roll the beedis.
Forced labor can easily give rise to human trafficking, where people like Amina who are desperate for better wage-earning work succumb to offers from traffickers for better jobs in big cities.
Throughout rural West Bengal, I met numerous young girls who fell prey to offers for domestic work in cities like Delhi, Mumbai, and Kolkata. They ended up working for well-to-do families around the clock, and after several months they were paid perhaps ten or twenty percent of the promised wages. Eventually, they are returned home, where they are just as desperate as before.
I asked one such girl, "Khadija", if she would ever take such an offer again.
"Yes," she replied, "There is no other work for me. What choice do I have?"
The absence of alternative is a deeply underestimated force of coercion for countless victims of human trafficking and forced labour across India, South Asia, and beyond.
It is a complex matter involving extreme poverty, socio-economic disenfranchisement, bias against minorities and females, lawlessness and corruption, government apathy, and many other factors that consign millions like Sameer and Amina to lives of slave-like exploitation.
These people spend their painful years quietly tucked away behind the shadows of the globalized supply chains that provide low-cost materials to producers, and cheap end producers to you and me.
We want to know what you think. What form does human trafficking take where you live? What do you think needs to be done to stop this practice? We'll be putting your questions and comments to Siddharth Kara each week.