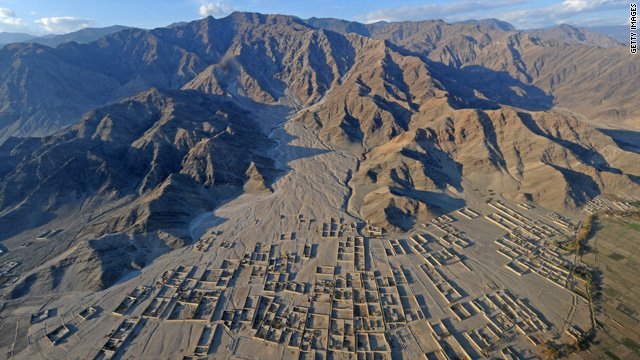 An aerial view of part of Kunar province in eastern Afghanistan.
In the mountains of Bamyan Province, 80 miles from Kabul, the Hajigak Iron Deposit is said to be the largest known undeveloped iron ore deposit in the world.
In the mountain range stretching 15 miles there are almost 2 billion metric tons of amazingly pure iron ore.
This September, the government of Afghanistan will offer a tender for mining rights here hoping to attract international companies.
On Connect the World, at 2000 GMT, we look at the vast array of minerals Afghanistan has and a recent discovery: 1.8 billion barrels of crude oil, plus natural gas.
The Minister of Mines says it could be as much as three trillion. And only 30% of the country has been explored.
But can the Afghan government assure its people will reap the benefits the potential benefits? Or will this siphon into the hands of corrupt groups and government leaders?
Leave us all your thoughts on this subject in our comments section below and we'll feature some of them on tonight's program.