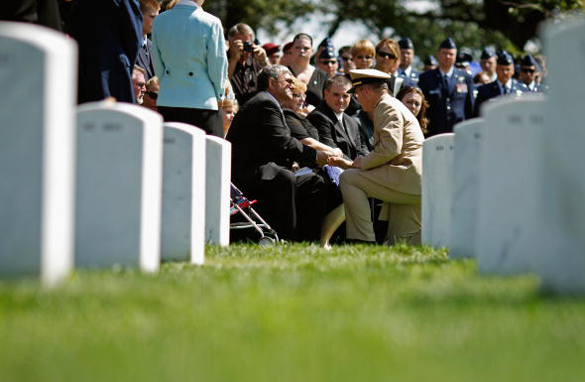 Military combat operations in Iraq will be officially coming to a close on August 31 and the day will mark the end of a lengthy and bitter conflict that has divided people around the world.
U.S. President Barack Obama will be marking the end of the war by personally thanking members of the military for their contribution and will also mark the milestone with a speech from the Oval Office.
Even though the official combat mission is ending, roughly 50,000 U.S. troops will remain in the country until the end of 2011. Their mission will be to train, assist and advise the Iraqis.
Iraqi Prime Minister Nuri al-Maliki proclaimed Iraq as "sovereign and independent" during a national address Tuesday to mark the official end of the U.S. combat mission in his country.
Al-Maliki praised the strides made by Iraqi security forces in fighting terrorism, attributing their efforts to making the U.S. drawdown possible.
"If these security achievements were not real, we would not have been able to move to executing the bigger and more important step, which is the withdrawal of American forces that is happening today," he said.
"This withdrawal would not have happened without the sacrifices of all the Iraqi people and the heroics of the army, police and security forces and the tribesmen who supported them.
As Iraq marks this important day, CNN International's "Connect the World" is bringing you a special one hour program dedicated to bringing you the answers of whether the Iraq war was worth it.
More than 4,000 U.S. troops have been killed so far and 316 members of the coalition have also lost their lives.
Reliable numbers on civilians killed are difficult to determine, but according to the human rights group "Iraq Body Count," between 97,000 and 106,000 Iraqis have been killed since 2003.
The war has also cost the U.S. government more than $700 billion according to the U.S. defence department.
We want to know what you think.
After more than seven years of conflict, was the end result worth it? Was the ousting of Saddam Hussein and the establishment of a democratic government worth the loss of life?
Let us know what you think and please leave your comments below - be sure to also include where you're writing from. You can also tweet CNN's Becky Anderson @BeckyCNN if you want your tweet read out.
Tune in on Tuesday August 31 at 2100 London time, 2200 central Europe time or 1600 New York time.