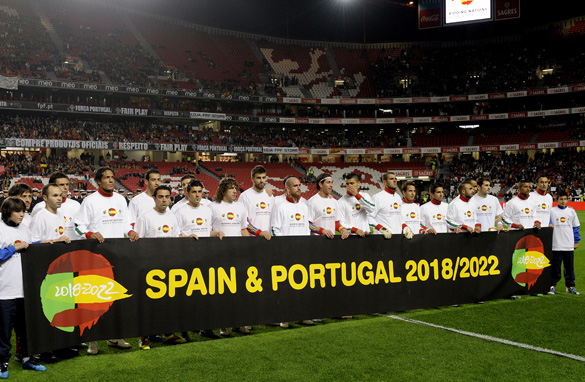 It is one of the biggest sporting spectacles on the planet and every four years, someone can call themselves hosts for the FIFA World Cup.
Brazil will be the next host in 2014 - just two year before the country hosts the summer Olympic Games.
The decision for the 2018 and 2022 World Cup will be announced this Thursday, but the bidding process has already been overshadowed by allegations of corruption and bribery.
Cameroonian Issa Hayatou was one of three FIFA officials - including Nicolas Leoz from Paraguay and Ricardo Teixeira from Brazil - who were named by the BBC as having taken bribes from the ISL marketing company who went onto secure valuable World Cup rights in the 1990s.  
The BBC has been criticized for airing the damaging program just three days before FIFA members are to vote on a winner.
The other countries vying for the 2018 World Cup are Russia with joint bids from Spain and Portugal and the Netherlands and Belgium.
There doesn't seem to be a runaway favorite for 2018, but bookmakers have Spain and Portugal as odds on favorite with England now being dubbed an 'underdog.'
While the 2018 tournament is sure to go to a European country, the continent for the 2022 World Cup is much less certain.
South Korea, Japan, Australia, Qatar and the United States are all in the running for the tournament which are more than a decade away.
Japan and South Korea jointly held the World Cup in 2002 so are seen as an unlikely choice. Australia and the United States are being viewed as the favorites, but FIFA may choose to award the games to Qatar as a middle eastern country has never hed the tournament.
We want to know what you think.
Do you think that these allegations of bribery that aired on British television will hurt the England's chances of holding the World Cup? What country do you think will win the 2018 and 2022 bids? What will the World Cup mean to your country?
Please leave your predictions and comments below and be sure to tell us where you're writing from.