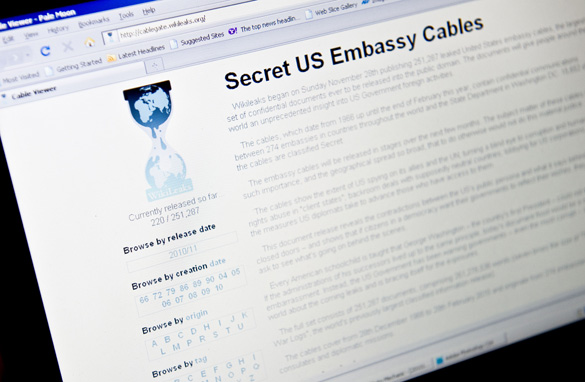 Since the release of sensitive U.S. documents began earlier this week from whistle-blower website WikiLeaks, governments around the world have been playing damage control to contain the release of politically sensitive information.
The site began publishing some of the more than 250,000 diplomatic cables from U.S. embassies around the world, spawning sharp condemnation from the White House and congressional leaders.
"The cables show the U.S. spying on its allies and the U.N.; turning a blind eye to corruption and human rights abuse in 'client states'; backroom deals with supposedly neutral countries; and lobbying for U.S. corporations," the site's editor-in-chief and spokesman, Julian Assange, said in a statement released Sunday evening.
"This document release reveals the contradictions between the U.S.'s public persona and what it says behind closed doors - and shows that if citizens in a democracy want their governments to reflect their wishes, they should ask to see what's going on behind the scenes."
Since the diplomatic cables began being released, the documents have provided a unique insight into the way America conducts diplomacy around the world and what it really thinks of world leaders behind closed doors.
Some of the cables shed light on China's view toward North Korea the war in Afghanistan as well as allegations that Secretary of State Hilary Clinton ordered diplomats to spy on members of the United Nations.
As WikiLeaks continue to release more documents each day, we want to know what you think.
Was it right that Wikileaks released these documents or did they go too far? Should the public be allowed to know what goes on behind closed doors or does it risk damaging relationships with countries?
Please leave your comments below and be sure to tell us where you're writing from.
Tune in on Friday December 2 at 2100 London, 2200 CET and 1600 EST for our special report on Connect the World as we investigate the global ramifications of WikiLeaks.