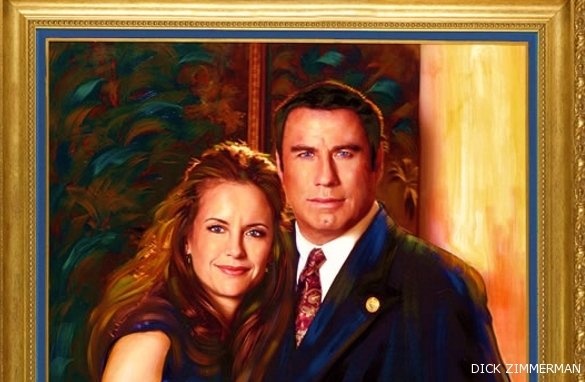 Zimmerman's portrait of John Travolta & Kelly Preston
Renowned portrait artist Dick Zimmerman has painted the world's biggest names – from Michael Jackson to Salvador Dali to Archbishop Desmond Tutu.
He even literally gave Michael Jackson the suit off his back for what later became the iconic cover of the smash hit album Thriller.
Zimmerman works out of his studios in Tampa, Florida and Los Angeles, and has been creating portraits for nearly four decades.
Described as one of the most well-known portrait artists of the 20th century, Zimmerman says his work "captures the subtleties of the soul".
What do you want to ask Dick Zimmerman? Leave your questions below, and remember to say where you are writing in from.